What Research Wizard Customers Are Saying
...a huge impact on my investing strategy
No benchmark stands a chance!
Fantastic product, please make sure it doesn't get too popular.
Built-in, proven,
profitable strategies.
Pick and choose from our most profitable, time-tested strategies. Whether you're into high-flying growth stocks or deeply discounted value stocks, fast-paced momentum stocks, the steadiness of income-producing stocks, maybe the art and science of technical analysis stocks, or a mix of some or all of the styles combined, there's a strategy for you.
New Highs: +38.4%
Value Method 1: +43.9%
Small-Cap Growth: +46.4%
Filtered Zacks Rank5: +49.5%
Big Money Zacks: +55.1%
Average gains per year from 2000 - 2022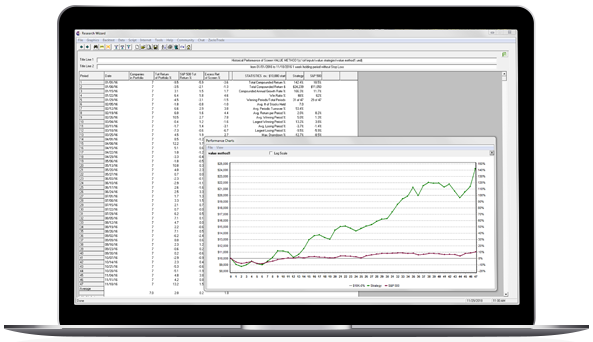 Create and backtest your
own strategies.
Put your stock-picking ideas to the test. Virtually any investment criteria you're looking for is right at your fingertips. Create your own screens, build your own trading strategies, and backtest to see how they work. By knowing how well your strategies have performed in the past, you'll know what your probability of success will be now and in the future.
More than 10,000 stocks
Over 650 data items to screen on
Create your own customized items
Backtest over 17 years of data
Free Daily Picks from Zacks' Best Strategies
Plus, Formulas for Finding Them on Your Own
Try our Research Wizard stock-selection program for 2 weeks to access live picks from our proven strategies, modify existing screens, or test and create your own at the touch of a button. Absolutely free and no credit card needed.